New Broncos coach Sean Payton tweets at Tom Brady, Rob Gronkowski 'Let the recruitment begin!'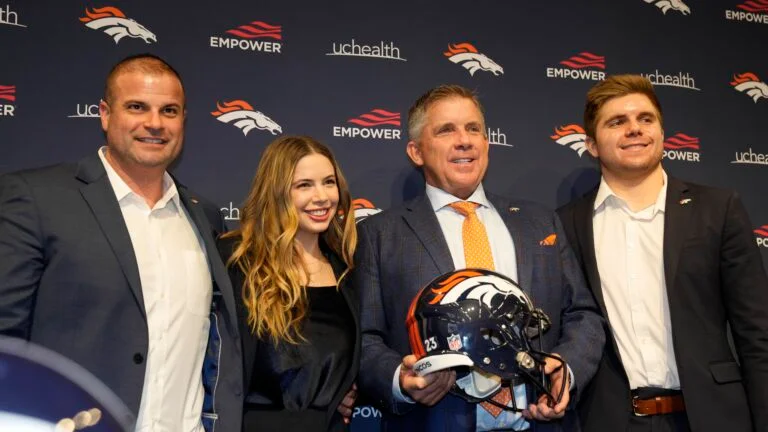 Payton also tweeted an image of a Broncos shirt with the a «G» in place of the «B» to read «Groncos.
Sean Payton's first course of action as the coach of the Denver Broncos might be to bring a pair of Patriots legends with him to the Mile High City.
Payton tweeted Saturday afternoon an image of a Broncos shirt that had the "B" crossed out with a "G" written next to it, making the shirt "Groncos." Of course, if you pronounced it like the team name just with a "G" instead of a "B," it would sound like "Gronk-os."
That's what Payton appeared to have in mind as he mentioned Rob Gronkowski in the tweet. Not only did he tag Gronkowski though, he also tagged Tom Brady in the tweet, writing "Let the recruitment begin!.
Payton and Gronkowski have some prior ties, too. The duo worked together on FOX's NFL studio coverage as Payton worked as an analyst in between his stints with the Saints and Broncos. Of course, Brady also has a deal to join FOX in the future as well, which might be why Payton tagged the "NFL on FOX" Twitter account.
However, Brady and Gronkowski joining Payton in Denver seems unlikely. Brady reportedly filed official paperwork to reconfirm his Feb. 1 retirement announcement on Friday. Gronkowski also stated earlier this week that he's done playing, too.
If Brady and Gronkowski change their minds, which they've both done before, they could easily sign with the Broncos as both players aren't under contract with the Buccaneers, making them free agents.
Payton's tweet certainly is a bit interesting though considering the comments he made about Russell Wilson having a personal quarterback coach on staff earlier this week, saying that wouldn't be the case moving forward. Terry Bradshaw, one of Payton's colleagues at FOX, also told Newsday earlier in the week that Payton originally didn't want the Broncos head coaching job due to Wilson.