New-to-market tenants spur Wynwood office demand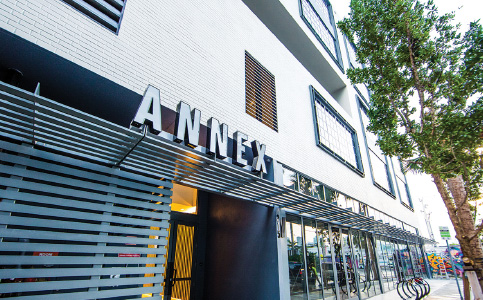 Wynwood is becoming Miami's busiest office submarket as demand for space is far surpassing current supply due to its attractive live-work-play environment, with more than 80% of its recently leased office tenants being new-to-market and a million square feet of office space in the pipeline.
Coming up new-to-market tenants in Wynwood in the first quarter of the year include Blockchain.com at CUBE Wynwd at 222 NW 24th St, with 21,952 square feet of office space; OpenStore at the Gateway at Wynwood in 2916 N Miami Ave., with 14,914 square feet of office space; and Neocis at 545 NW 26th St., a medical equipment manufacturer leasing 38,000 square feet of office space.
"Overwhelmingly tenants go there for two or three reasons," said Stephen Rutchik, executive managing director of Colliers Office Services. "The first is the logistics of the neighborhood – Wynwood, Midtown, Edgewater and the Design District. From a commuter perspective, it provides better ingress and egress than some of the more congested submarkets in South Florida. Tenants are desiring the amenities that the area provides as far as food and beverages and entertainment, and it really correlates with their brand identity, with how they view themselves. Something different."
Other firms opening shop in Wynwood include Barry's Bootcamp, a new 9,000-square-foot fitness center in 2214 NW First Place; Actuate Law, a new 3,000-square-foot law firm in the 545 Wyn building; and Levine Leichtman Capital Partners, who opened in 4,020 square feet in 112 NE 41st St. All of these opened in the last quarter of 2021.
"With the amount of demand exceeding the supply in Wynwood and the surrounding areas, we're finding that developers – some of whom have been active in the market or planning additional developments – are attracting new-to-market developers who have seen the data and experienced the buzz and activity and are now bringing their expertise in other cities and submarkets to Wynwood," said Mr. Rutchik.
DWNTWN Realty Advisors led a $49 million sale of the Wynwood Annex office tower in Wynwood, which has 60,000 square feet of rentable office space, to new-to-market San Francisco investors Brick & Timber Collective. Wynwood Annex has leased all of its office space within six months to new-to-market venture capital, technology and finance firms such as Founders Fund, Live Nation Entertainment and Atomic Venture Capital.
"Wynwood has been called 'the capital of Capital' and it is known that venture capital firms and web3 companies – cryptocurrency and decentralized finance tenants – have chosen to go [there] and it makes sense," said Tony Arellano, co-founder and managing partner of DWNTWN. "It is a fully creative, walkable neighborhood, there is great dining and entertainment, there are now tons of residential, and it is becoming a very mature submarket for hotels, office, residential, retail – the whole nine yards."
DWNTWN has also bought another new-to-market building, Wynwood CUBE, for $77 million, with the announcement of the signing of two floors and 22,000 square feet of office space leased to Blockchain.com.
"Wynwood today is definitely one of the top submarkets for office in Miami," Mr. Arellano said. "We are running a disposition process for [the Wynwood CUBE], and we've had offers and interests from all over the world. It's really, really overwhelming."
Other top financial and technological firms coming to Wynwood include Industrious, a new co-working space and investing firm Schonfeld Strategic Advisors, who are leasing 41,000 square feet and almost 20,000 square feet of office, respectively, at The Dorsey, a mixed-use development.
"We are often now seeing spaces [being filled up] before they're vacant," said Mr. Rutchik. "In fact, we executed a lease last week in a building where the landlord didn't have single day of vacancy because the [new] client took the space the day after the previous tenant vacated."
He added that Colliers office services has seen rent increases of about $10 per square foot, "that's about a 20% increase in the past 30 days."
In addition, JLL announced March 1 that it is leasing 47,852 square feet of mixed-use property with office and restaurant space at Wyncatcher, Wynwood's first mixed-use development, designed by Arquitectonica. Office space configurations range from 3,976 to 37,427 square feet, a press release said.
"The commercial complex offers unusual branding potential and a unique office space for new-to-market and locally established firms seeking office space in a vibrant community like Wynwood," said Cameron Tallon, senior vice president for JLL's Agency Leasing team, in the press release.
"There is a substantial pipeline of new activity, which is being driven by supply that is unable to meet the demand in the market," said Mr. Rutchik. "We would expect that there would be further developments as it is supported by the market demand and the interest in finance to relocate to the area."