Ranked Gen Z's Favorite Brands, Compared with Older Generations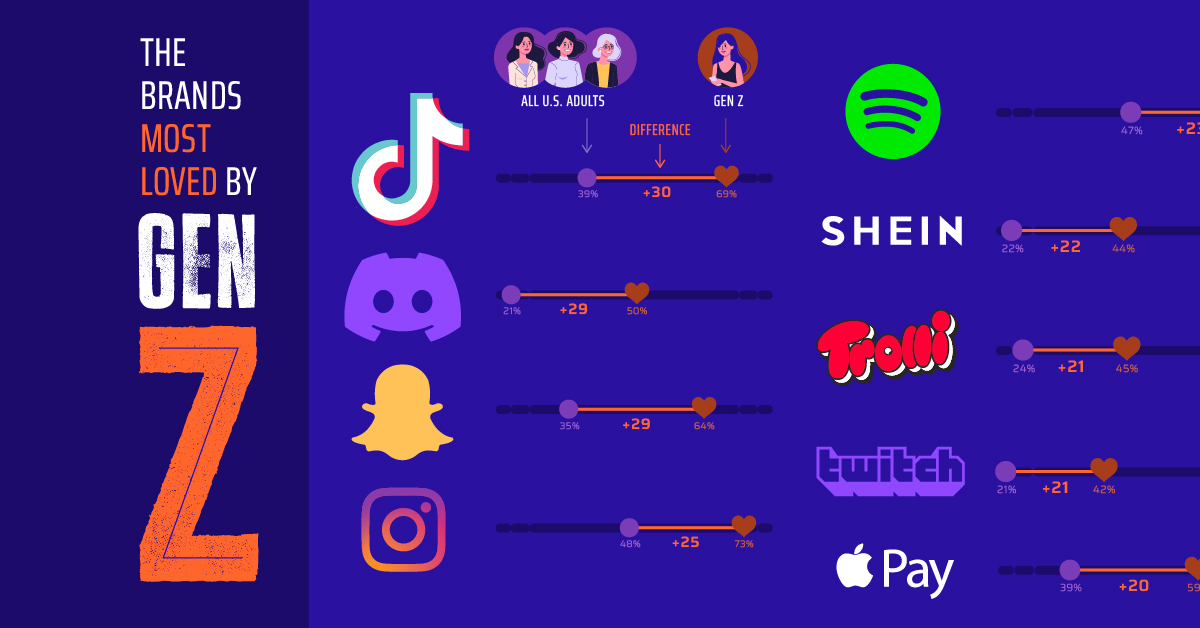 Generation Z's favorite brands, in absolute terms, aren't wildly different from preferences of other generations, with Walmart, Google, and Netflix ranking high. But when it comes to the brands that do the best with Gen Z compared to their elders, the list shakes up dramatically.
This ranking uses  from Morning Consult to show which brands are favored considerably more by Gen Z when compared to the general public. A brand's rank is determined by the difference in favorability between Gen Z's survey responses and the average of all U.S. adult respondents.
Note: Gen Z is the generation born between 1997-2012. Favorability in this ranking is measured using the share of a generation who said they have a "very" or "somewhat" favorable opinion of said brand.
Compared to Millennials, Gen X, and Boomers, who may not care as much for these 20 brands, gen z—currently between 9-25 years old—loves them. Let's dive in.
Unsurprisingly, TikTok takes the top spot. The app that is frequently used to poke fun at older generations and that in many ways is a reflection of Gen Z culture, is 30 points more favorable with the young generation than others.
Members of Gen Z are the first true "digital natives"—meaning they were raised in the age of digital technology. As a result, many of their favorite brands are either some kind of social media platform and/or digital service, like Apple Pay, Snapchat, or Spotify. In fact, eight of Gen Z's top 10 favorites on the above list are digital brands.
Another distinguishing feature of consumers in this generation is that they're   more likely to care about brand ethics and sustainable consumption than other generations.
However, one brand among their top 20 that defies that sentiment is the Chinese clothing company, Shein. This fast fashion company's model promotes a culture of mass clothing hauls and thus,  clothing waste—making it far from environmentally conscious. Shein has also come under fire recently for   violating labor laws in its Chinese production facilities. And yet 44% of Gen Zs have a good impression of the brand, and it particularly does well with Gen Z women.
Interestingly, members of Gen Z in the U.S. are also the first cohort to have strong awareness of Chinese brands more generally.
Two generations that are often lumped together, Gen Z and Millennials have some considerable differences when it comes to their favorite brands. Here's a brief look at some of the brands that do better with Gen Z compared to Millennials specifically, using favorability difference.
Compared to their generational neighbors, one interesting standout is Crocs—the utilitarian, but highly-customizable foam clogs—which almost 60% of Gen Zs see as favorable compared to only 46% of Millennials.
While Gen Z differentiates itself from the older generations in many ways, a lot of the overall favorites still align with everyone else's.
Removing the favorability difference score reveals that many of the most popular brands overall still win out, such as Netflix, Google, and Amazon.
Overall, the report found that it's hard for brands to win with Gen Z. Across all brands that were scored, 33% of the general American public rated them as favorable, but for Gen Z respondents the number dropped to 27%.
In general, Gen Z tends to value conscious consumption and subsequently, brands that can meet those expectations. Digital services and products also do well with this generation that has never known a world without internet.
As more and more Gen Zers enter the labor market  and grow their consumer power, they will be an important generation to watch.
It can be difficult to comprehend the true sizes of megacities, or the global spread of 8 billon but this series of population density maps makes the picture abundantly clear.
Created using the EU's population density data and mapping tool Aerialod by alasdari the 3D-rendered maps highlight demographic trends and geographic constraints.
Though they appear topographical and even resemble urban areas, the maps visualize population density in squares. The height of each bar represents the number of people living in that specific square, with the global map displaying 2km x 2km squares and subsequent maps displaying 1km x 1km squares.
Each region and country tells its own demographic story, but the largest population clusters are especially illuminating.
Zooming into the most populated country in the world, China and its surrounding neighbors demonstrate massive clusters of urbanization.
Most people are familiar with the large density centers around Hong Kong, Guangzhou, and Shanghai, but the concentration in central China is surprising. The cities of Chengdu and Chonqing, in the Sichuan Basin, are part of a massive population center.
Interestingly, more than 93% of China's population lives in the Eastern half of the country. It's a similar story in neighboring South Korea and Taiwan, where the population is clustered along the west coasts.
The U.S. also has large population clusters along the coasts, but far more sprawl compared to its Asian counterparts.
Clearly visible are clusters in Florida (and not exclusively focused around Miami like some might believe), Illinois, Georgia, and Texas. The population is sparse in the West as expected, but California's Los Angeles and Bay Area metros make up for the discrepancy and are just behind New York City's density spikes in height.
At 1.38 billion people, India's population is just behind China's in terms of size. However, this sizable population fits into an area just one-third of China's total land area, with the above map demonstrating what the same amount of people looks like in a smaller region.
On one hand, you still have clear clusters, such as in Mumbai, New Delhi, Kolkata, and Bangladesh's Dhaka. On the other, there is a finite amount of room for a massive amount of people, so those density "spikes" are more like density "peaks" with the entire country covered in high density bars.
However, we can still see geographic trends. India's population is more densely focused in the North before fading into the Himalayas. Bangladesh is equally if not more densely populated, with the exception of the protected Sundarbans mangrove forest along the coast. And Pakistan's population seen in the distance is clustered along the Indus River.
Geographic constraints have always been the biggest deciding factor when it comes to population density, and nowhere is this more apparent than Southeast Asia.
Take Indonesia, the fourth largest country by population. Despite spanning across many islands, more than half of the country's 269 million inhabitants are clustered on the single island of . The metros of Jakarta and Surabaya have experienced  but spreading that growth across oceans to entirely new islands (covered by rainforests) is a tall order.
When the distance is smaller, that cross-water growth is more likely to occur. Nearby in the Philippines, more than 100 million people have densely populated a series of islands no bigger than the state of Arizona.
Indeed, despite being one of the most populated areas in the world, each country in Southeast Asia has had its own growing problems. Some are limited by space (Singapore, Philippines), while others are limited by forests (Thailand, Vietnam).
Though the above maps cover the five most populated countries on Earth, accounting for nearly half of the world's population, they only show a small part of the global picture.
As the full global density map at the top of the page highlights, the population patterns can accurately illustrate some geographic patterns and constraints, while others need further exploration.
For example, the map clearly gives an outline of Africa and the sparse area that makes up the Sahara Desert. At the same time, landmasses like Australia and New Zealand are almost invisible save for a few clusters along the coast.
To get a closer and more intricate picture of each country's density map, head to Alasdair Rae's of rendered maps and start scrolling up to find yours!
Here, we highlight countries that are magnets for immigration, such as UAE and Qatar, as well as nations with very few foreign born residents.
The median proportion of foreign-born people in all countries is just over 5%. In countries with a population greater than one million, only four are majority foreign-born, and only eight surpass the one-third mark.
Here are the top 20 countries with the highest proportion of immigrants in their populations:
Source: UN via . Note: Only countries with a population of greater than one million are included.
The United Arab Emirates comes out on top for the highest proportion of immigrants in its population. Impressively, the small Middle Eastern nation ranks sixth in the world for total immigrant population (8.7 million people).
A few countries are magnets for immigration, while a great many more receive very little immigration. This can simply be due to lack of demand, or because of more extreme circumstances such as war or a failing economy. In other cases, immigration policies may limit the number of people who can migrate to a country.
Here are the top 20 countries with the lowest proportion of immigrants in their populations:
Cuba has the lowest level of foreign-born people in its population. The Caribbean nation makes it very difficult for foreign nationals obtain permanent residency.
China comes in second last. In absolute terms, the million or so immigrants living in China may sound like a lot, but pales in comparison to the overall population of 1.4 billion.
Interestingly, Japan–which is the poster child for low immigration–isn't on the list above. The country's foreign-born population sits at just over 2%.