Carolina Panthers select QB Bryce Young with first pick of NFL Draft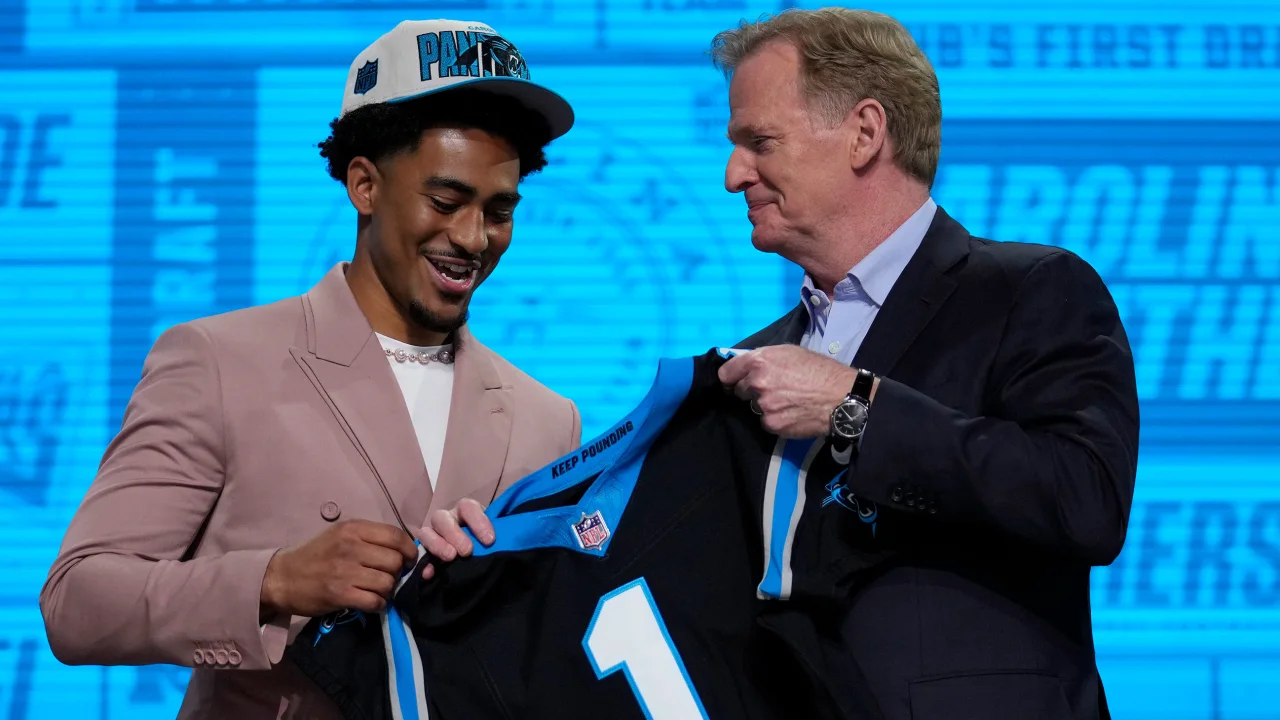 The Carolina Panthers have selected University of Alabama quarterback and 2021 Heisman Trophy winner Bryce Young with the first pick of the NFL Draft.
"It's surreal. It's a dream come true," Young told the ESPN broadcast. "As amazing of a moment this is, I'm going to try to live in this moment. I can't wait to get to work and start building off of it."
The California native was graded as the NFL's fourth-highest player overall in the draft and the highest-rated quarterback, earning himself comparisons to future Hall of Famer Drew Brees.
NFL analyst Lance Zierlein describes Young as a "full-field reader whose confident demeanor on the field oozes off the tape but never becomes unbridled cockiness.
This past season, Young threw for 3,328 yards and 32 touchdowns, becoming the only quarterback in Alabama history to throw for 3,000-plus yards in two different seasons.
In March, the Panthers traded highly regarded wide receiver DJ Moore and four draft picks in this and future drafts to the Chicago Bears for the No. 1 pick in this year's event.
The 21-year-old Young becomes the first ever Crimson Tide player to go first overall in the modern NFL Draft era.
With the second pick, the Houston Texans picked quarterback CJ Stroud of Ohio State University.
Stroud entered the draft after two successful years for the Buckeyes.
The 21-year-old's "accuracy stands out on tape," according to Zierlein. "He's able to lead receivers with good placement and make on-frame throws to targets on all areas of the field."
"I bring a leader. I bring somebody that's going to work every day and work their tail off," Stroud told the NFL Network on what he provides to the Texans. "Somebody who comes from a winning tradition. Somebody who wants to win – and that's all I care about. So I'm going to be the best teammate, the best leader, the best quarterback I can be."
The Texans then traded for the third pick and chose Young's teammate, linebacker Will Anderson Jr., who twice won the award given to the nation's outstanding college defensive player by the Football Writers Association of America and Charlotte Touchdown Club.
"Everybody don't know how much hard work goes into this, man," Anderson told NFL Network. "The sacrifices I made, the hard work, the dedication. Everything that goes into this. They just see what happens on Saturday but the process, man I'm just so blessed."
Other picks:
No. 4 – Indianapolis Colts: University of Florida quarterback Anthony Richardson
No. 5 – Seattle Seahawks: University of Illinois cornerback Devon Witherspoon
No. 6 – Arizona Cardinals: Ohio State offensive tackle Paris Johnson Jr.
No. 7 – Las Vegas Raiders: Texas Tech University linebacker Tyree Wilson
No. 8 – Atlanta Falcons: University of Texas running back Bijan Robinson
With the ninth pick, the Philadelphia Eagles selected University of Georgia defensive lineman Jalen Carter, whose draft stock was in question after he was sentenced to 12 months of probation in March for his role in a January crash that killed a teammate and a team staffer.
Carter's college teammate Devin Willock and football team staff member Chandler LeCroy were killed in the January 15 crash, which happened hours after the team participated in a parade through campus to celebrate its second consecutive national title. Two other people in the Ford SUV were injured.
LeCroy was driving near the campus with Willock and two other members of the football program also in the vehicle, police said. The SUV was traveling "about 104 miles per hour" before it veered off the road and slammed into two power poles and several trees, Athens-Clarke County police said.
Authorities said Carter was driving a separate vehicle and he and LeCroy appeared to be racing.
The Bears, who swapped the pick they acquired from the Panthers with the Eagles, chose University of Tennessee offensive tackle Darnell Wright at No. 10.
Rounds 2 and 3 of the draft will take place Friday, with rounds 4-7 on Saturday.