Donna Kelce raised 2 Super Bowl-winning brothers—here's the No. 1 parenting rule she used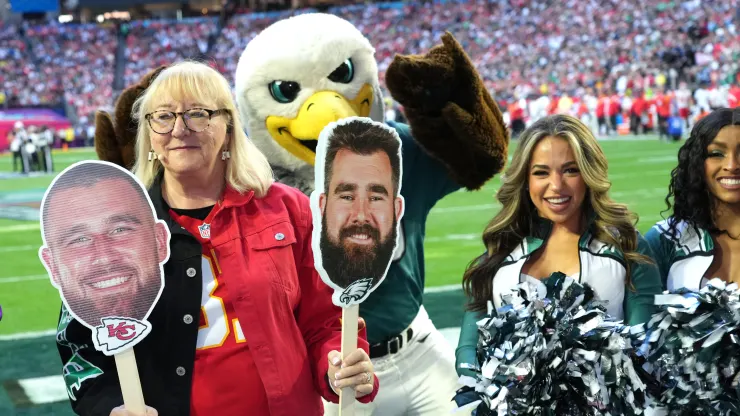 Donna Kelce had a rule for her children growing up: Once you start something, you have to see it through.
On Sunday, Kelce became the first mother ever to have two sons compete against each other in a Super Bowl: Travis Kelce's Kansas City Chiefs defeated Jason Kelce's Philadelphia Eagles 38-35. Coming into the game, both were already Super Bowl champions, with Travis winning in 2020 and Jason in 2018.
In the days leading up to the big game, Donna Kelce answered numerous questions about how her two sons grew to become NFL stars, each with championship rings.
When the Kelce brothers were growing up in Cleveland Heights, Ohio, their parents always preached good sportsmanship, Donna told parenting website SheKnows. The boys were encouraged to try any sport they wanted to play — football, basketball, soccer, lacrosse, hockey, wrestling.
Their parents only asked that they commit to a team for an entire season. If they ended up not liking the sport, they still had to stick it out for a full season so they wouldn't let down their teammates.
″'Once it's over, if you don't like that team, or if you don't like that sport, you don't have to play anymore,'" Kelce said. "'But your team depends on you. You have to show up on time, every day, whether you want to or not.'"
That philosophy rings true in adult life, whether you're a professional athlete or not: A well-liked colleague's departure often leaves their former co-workers with more work and an emotional void.
Even in youth sports, a child quitting midseason can have a negative effect on teammates psychologically — though experts say parents should be open to letting their children quit a team in instances of serious injury or bullying.
Perseverance is also an important skill for kids to learn. Learning to bounce back from a challenge or disappointment can help build inner strength and set you up for success down the line, educational psychologist Michele Borba told HuffPost last year.
Kelce told NBC's "Today" that her two sons "played almost every single sport you can think of" as kids, and that it's been exciting to watch her sons play together — and against each other — for decades.
"It's just been a pure joy to watch them compete and be allowed to do it for this many years. It's just amazing," Kelce said.
The two brothers have always been competitive with each other, she added: "Everything was a competition. It was a competition to see who could get to the table first, who could get to the front seat of the car — this is just typical sibling rivalry. They egged each other on."
Kelce's split fandom helped her become a viral sensation before the Super Bowl, thanks to a customized jersey and denim jacket that combined both of her sons' team jerseys: red for Kansas City, black and green for Philadelphia.
After Sunday's game, Kelce consoled Jason over his team's loss and celebrated the Chiefs' win with Travis. She knew it would be a mixed bag of emotions for the whole family, because her sons "do not like to lose," she told People last week.
"That's why they're the professionals that they are," Kelce said. "It's give everything you can. When you don't think you have any more in the tank, you push harder and you find out how far you can stretch yourself."
Get CNBC's free Warren Buffett Guide to Investing, which distills the billionaire's No. 1 best piece of advice for regular investors, do's and don'ts, and three key investing principles into a clear and simple guidebook.