'My voice matters' – University of Miami: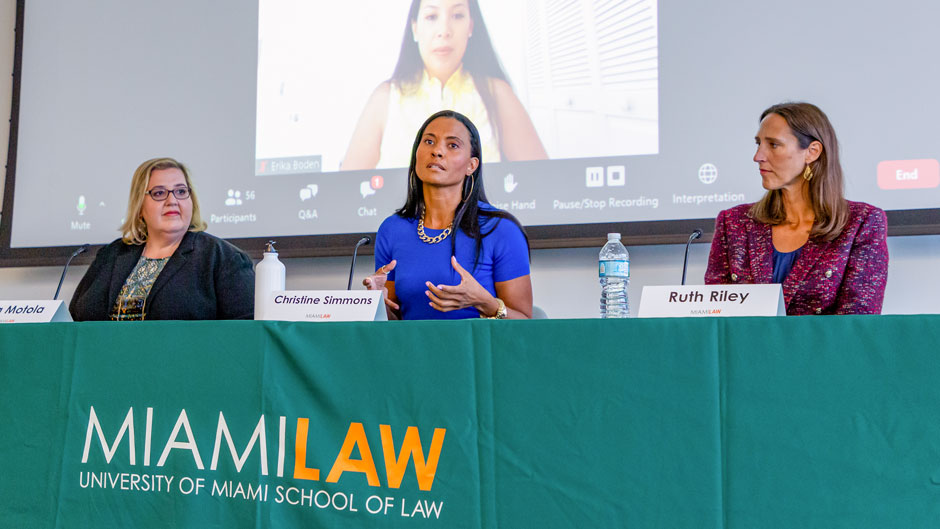 It's been called the hashtag that changed the Oscars.
After the Academy of Motion Picture Arts and Sciences awarded all 20 acting nominations for the 2015 Oscars to white actors, activist April Reign tweeted "#OscarsSoWhite they asked to touch my hair," igniting a social justice campaign that shined a spotlight on the lack of diversity in the longtime film awards.
And a year later, when the hashtag was revived after the Oscars nominations list was again composed exclusively of white actors, the academy took historic action, committing itself to increasing diversity in its ranks.
"The goal was to double the number of women and those that identify as people of color from underrepresented ethnic and racial communities by the year 2020 within its membership base," Christine Simmons, the first African American and woman to serve as chief operating officer for the academy, said Thursday on the University of Miami's Coral Gables Campus.
Her comments were part of the panel Diversity, Equity, and Inclusion: A Discussion with Women Leaders in Entertainment and Sports, one of several discussions held April 7 and 8 as part of the School of Law's Global Entertainment and Sports Law and Industry Conference.
"We overachieved in some of those goals," noted Simmons, referring to the academy's efforts to ramp up its diversity initiatives.
Indeed, women made up 46 percent of the academy's 2021 membership class, while 39 percent of the members were from underrepresented ethnic and racial communities.
What's more, the 2021 Oscars was hailed as the most diverse ever, with Chloé Zhao becoming the first woman of color to win best director, for "Nomadland"; Daniel Kaluuya and Yuh-Jung Youn capturing supporting actor honors; and Mia Neal and Jamika Wilson becoming the first Black women to win in makeup and hairstyling, for "Ma Rainey's Black Bottom."
And while the 94th Academy Awards, held March 27, 2022, at the Dolby Theatre in Los Angeles, will forever be synonymous with Will Smith's slap of Chris Rock, the awards made further strides in diversity, with an openly queer woman of color, a deaf actor, and a streaming service all taking home awards.
But beyond the nominations and wins, the academy has continued to look at ways to "walk the walk" when it comes to issues of diversity, Simmons said. And that includes taking such steps as examining the vendors and suppliers with whom the academy conducts business. As such, it formed a partnership with a Black-owned company that catered what she called "the most illustrious after-party" held during Oscars week.
"This is all stuff that's behind the scenes, the non-sexy stuff that doesn't include the A-listers and the red carpets," Simmons explained.
Presented by the Hoffman Forum, an initiative made possible by School of Law alumni Deborah and Larry Hoffman, the panel also addressed issues ranging from equitable pay to advocacy for individuals with disabilities.
Erika Estrada Boden, vice president of business and legal affairs at NBCUniversal Telemundo Enterprises, recalled how in the early stages of her career she felt intimidated in meetings with senior executives, feeling as if she had to be only an active listener and nothing more. "But as I've progressed in my career, I've realized that the reason I'm in those rooms to begin with is because my voice matters and because I have a right to be there," said Boden, who participated in the panel virtually.
As a fledgling attorney at a large Philadelphia law firm, Niza Motola was often mistaken for a court reporter whenever she showed up for courtroom hearings and depositions. "From there to where I am now, what I've learned is it's important to know your own worth and value.
When I was younger, I didn't quite understand that. But now I get it," said Motola, who is now vice president and assistant general counsel for employment and litigation at Univision.
Fear of retaliation prevented Victoria Croy, director of culture and inclusion for the NFL's Jacksonville Jaguars, from speaking up when she experienced harassment while starting her career in the sports industry right out of college. "I didn't realize that I was empowered and that I could stick up for myself," she said. "I didn't realize that I could talk about those things and tell someone 'No,' or tell them that something is inappropriate, or that I could share with an HR department things that might be happening."
Panelists shared advice on how they overcame obstacles to succeed in male-dominated professions. "Have soft elbows," Boden advised. "Know how to weasel your way in but to do it in a way that's not overbearing or aggressive, but certainly assertive. That's my negotiation style when negotiating contracts day in and day out. And it's also my style dealing with corporate politics and having to manage the day to day of the corporate world."
Simmons urged attendees not to stress over problems but to take an attitude of being confident to solve them. "You're always going to be presented with a problem, and nine times out of 10, your problem isn't going to show up the same exact way.
You never know what might happen on a live show," she said in an obvious reference to the Will Smith slap on Oscar night.
Ultimately, as much attention needs to be devoted to issues of inclusion as is being directed at diversity, said panel moderator Ivy Kagan Bierman, a partner in the Los Angeles-based law firm Loeb and Loeb, who directs the entertainment law track of the School of Law's Entertainment, Arts, and Sports Law graduate program. "We see this in organizations, in companies, in law firms," Bierman said. "We recruit wonderful, diverse candidates, but they don't stay because it's not an inclusive environment."
For women, especially those of color, closing the gender wage gap is crucial. Even though they perform the same work, they have been tremendously underpaid in comparison to their white male counterparts, Bierman said.
Ruth Riley, TV studio and radio analyst for the NBA's Miami Heat, is aware of that fact better than anyone. The retired WNBA player, who won a gold medal at the 2004 Athens Games as a member of the U.S. Women's Olympic basketball team, often felt uninformed about equal-pay-for-equal-work concerns when she entered the job market after her professional playing career.
But the pay gap is shrinking, she said. "Women in sports have come a long way. We've heard about the U.S. women's soccer team's fight for equality, and there's been tremendous growth in the WNBA," Riley explained.
But it's not just the revenue. "It's the lack of coverage," she bemoaned. She noted a TV commercial that aired regularly during the men's and women's NCAA basketball tournaments that revealed that more than 40 percent of athletes are female, yet they receive less than 10 percent of total media coverage.
"That 10 percent was 4 percent when I was playing," Riley said, noting her pride in young athletes who are using their platforms now to raise awareness about the issue.
Other panels at the two-day forum addressed esports in South Florida, the upcoming Formula 1 grand prix race in Miami Gardens, how influencers are keeping up with social media, music catalog sales and acquisitions, and efforts to reshape Miami's public art space.
Copyright: 2022 University of Miami. All Rights Reserved.