Sports Digest: Pegula advances to Miami Open semifinals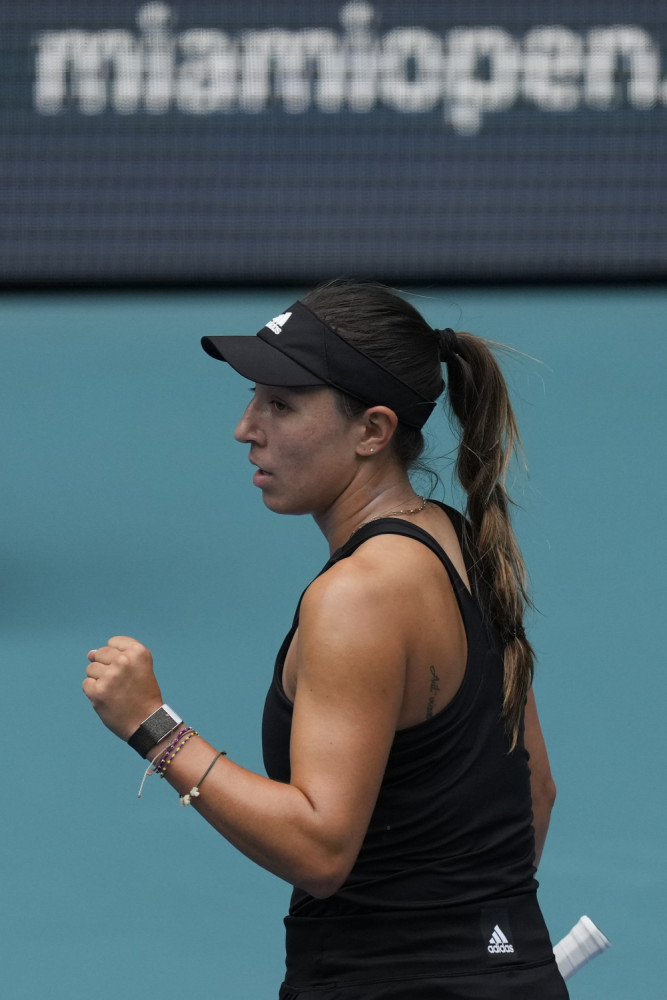 Jessica Pegula, the No.16 seed, advances when Paula Badosa retires five games into the first set.
TENNIS
Forget three-setters. These days, Jessica Pegula doesn't even need second sets.
The No. 16 seed has made the semifinals at the Miami Open, benefiting from a second consecutive abrupt ending. She won her quarterfinal against fifth-seeded Paula Badosa on Wednesday, after Badosa retired five games into the first set.
Pegula has played four matches in this tournament, needing only 5 1/2 sets to record those victories. She had a first-round bye, won her next two matches in straight sets and her fourth-round match ended when unseeded Anhelina Kalinina retired after Pegula won the first set 6-0.
Then came Wednesday, when Badosa bowed out down 4-1.
"Of course, it's not nice to win that way," Pegula said. "It's the first time I've ever even hit with her at all and I was really looking forward to playing because she's been having an amazing year."
Badosa – who was No. 71 in the world rankings at this time last year – will climb to a career-best No. 3 when the computer numbers are updated Monday. She would have gone to No. 2 had she beaten Pegula.
Badosa said she woke up Monday not feeling well and wasn't even sure she could play that day in a fourth-rounder against Linda Fruhvirtova. Badosa battled through, winning that match 6-2, 6-3, but was clearly not herself on Wednesday.
"She's an incredible competitor," Pegula said. "I think we all saw that last round where she clearly wasn't feeling well and she was able to tough it out. I admire that a lot and hopefully next time we can both play when we're healthy and feeling good and have a great match."
Pegula will next face No. 2 Iga Swiatek – who becomes No. 1 in the world rankings next week – in Thursday night's semifinals. Swiatek ousted No. 28 Petra Kvitova 6-3, 6-3 in the last women's quarterfinal.
The other women's semifinal is Thursday afternoon, when No. 22 Belinda Bencic will face unseeded Naomi Osaka.
The quick end of the Pegula-Badosa match meant the stadium court sat empty for nearly two hours, until No. 9 Jannik Sinner – a finalist in Miami last year – faced unseeded Francisco Cerundolo in a men's quarterfinal.
And after 22 minutes, that match was over – also in just five games. Cerundolo advanced when Sinner, down 4-1, retired with a blister on his right foot.
"I couldn't move. … I tried, but it didn't work," Sinner said.
In the late men's quarterfinal, sixth-seeded Casper Ruud earned a semifinal matchup with Cerundolo. Ruud beat an ailing No. 2 seed Alexander Zverev 6-3, 1-6, 6-3.
COVID-19: Dominic Thiem, the 2020 U.S. Open champion, said he tested positive for COVID-19 after his first match in more than nine months.
Thiem lost 6-3, 6-4 to Pedro Cachin at the Andalucia Open on the lower-level Challenger Tour on Tuesday. The 28-year-old Austrian had been sidelined by wrist and hand injuries and last competed in June.
Thiem posted on social media that he "started feeling unwell and didn't have a good night" after dinner Tuesday and developed what he called mild symptoms. He said he tested positive Wednesday.
Thiem was the runner-up at the French Open in 2018 and 2019, losing to Rafael Nadal each time, and at the Australian Open in 2020, losing to Novak Djokovic.
Later that year, Thiem collected his first Grand Slam title at Flushing Meadows, coming back from two sets down to beat Alexander Zverev in a fifth-set tiebreaker in the final.
Once ranked as high as No. 3, Thiem is currently No. 50.
At the 2012 Olympic final in London, 80,203 people saw the U.S. defeat Japan 2-1 to win the gold medal.
The previous club record was 60,739 in a Spanish league match between Atletico Madrid and Barcelona at Atletico's Wanda Metropolitano Stadium in 2019.
Barcelona advanced to the semifinals 8-3 on aggregate after winning the first leg 3-1 in Madrid last week.
GOLF
AUGUSTA NATIONAL WOMEN'S AMATEUR: California teen Anna Davis birdied the par-5 closing hole at Champions Retreat and shared the lead with Alabama sophomore Benedetta Moresco of Italy at 2-under 70 on a tough, windy start to the Augusta National Women's Amateur.
Only five players in the elite field of amateurs from around the world managed to break par.
Rose Zhang, the No. 1 amateur in women's golf and a leading favorite, struggled with the new greens on her way to a 76. It was a rough start, though scores were so high Zhang hardly shot herself out of the tournament. She was two shots below the cut line.
The top 30 from the 60-player field after the second round Thursday at Champions Retreat advance to the final round Saturday at Augusta National. A playoff decides the 30th spot in case of a tie.
SOCCER
WOMEN'S CHAMPIONS LEAGUE: Women's soccer celebrated a milestone when a world-record crowd of more than 91,000 people watched Barcelona defeat Real Madrid 5-2 at the Camp Nou Stadium.
Organizers said 91,553 people were in attendance in Barcelona, Spain. The previous record for any women's game was 90,185 for the 1999 World Cup final between the United States and China at the Rose Bowl.
At the 2012 Olympic final in London, 80,203 people saw the U.S. defeat Japan 2-1 to win the gold medal.
The previous club record was 60,739 in a Spanish league match between Atletico Madrid and Barcelona at Atletico's Wanda Metropolitano Stadium in 2019.
The previous women's Champions League record was 50,212 for a game between Lyon and Frankfurt in Munich in 2012.
Success. Please wait for the page to reload. If the page does not reload within 5 seconds, please refresh the page.