10 things you need to know today: December 9, 2022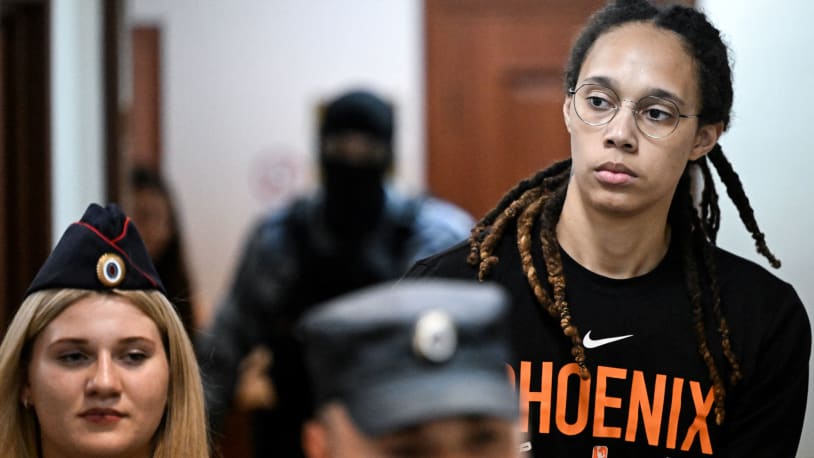 Russia on Thursday in exchange for Russian arms dealer Viktor Bout, President Biden announced. Griner was arrested by Russia in February for having vape cartridges with hashish oil in her luggage at a Moscow airport, and was sentenced to more than nine years. Bout, nicknamed the «Merchant of Death,» is a former Soviet military officer who was serving a 25-year sentence in the United States for charges that included conspiring to kill Americans and providing material support to a terrorist organization. The U.S. had hoped to bring home Paul Whelan, another U.S. citizen the State Department says is being wrongfully detained in Russia, but Moscow refused to include him in the
sending it to President Biden for his signature. The chamber approved the Respect for Marriage Act in a 258-169-1 vote, with 39 Republicans joining all Democrats in favor of the legislation. One Republican voted present. The Senate passed the bill in a bipartisan 61-36 vote, with 12 Republicans and all Democrats supporting it. The measure offers federal protection for same-sex and interracial marriages, requiring all states to recognize unions that were legal where they were conducted. Biden said he would sign the bill «promptly and proudly.» The measure repeals the 1996 Defense of Marriage Act, which recognized marriage as «a legal union between one man and one woman.»
Former President Donald Trump's legal effort to have an outside «special master» review documents the FBI seized in a search of his Florida home, Mar-a-Lago, ended Thursday when he. The 11th U.S. Circuit Court of Appeals shut down the suit last week but gave Trump until Thursday to appeal. Legal experts had said Trump's legal team had little chance of overturning the ruling, but the decision not to appeal still surprised observers. A Trump adviser previously said the former president's strategy was to «appeal everything to the Supreme Court.» The ending of the lawsuit clears the way for the Justice Department to obtain the bulk of documents collected in the search.
Russia on Thursday appeared to scale back its war goals in Ukraine, saying it was determined to secure control of parts of eastern and southern Ukraine it has claimed as Russian territory, but suggesting it was giving up on seizing more territory. Kremlin spokesperson Dmitry Peskov on Thursday spoke only of Russia's aim to absorb the four provinces that it has unilaterally declared to be part of Russia: Donetsk, Luhansk, Kherson, and Zaporizhzhia. Russia declared in October it had annexed the provinces. Kyiv rejected the annexation referendums as bogus, and its forces quickly reclaimed many occupied areas. The Kremlin still hasn't made its invasion goals clear, but in has stopped talking about seizing the capital, Kyiv, or bringing down the Ukrainian government.
The House Ethics Committee is announced this week. The panel did not reveal the purpose of its probe. In September 2021, the American Accountability Foundation filed an ethics complaint against the progressive lawmaker, accusing her of «accepting an impermissible gift» to attend the Met Gala. Ocasio-Cortez ruffled feathers during the 2021 event with her designer «Tax the Rich» dress, which Republicans criticized. The Ethics Committee noted that the opening of an inquiry «does not itself indicate that any violation has occurred.» A spokesperson for Ocasio-Cortez said: «The congresswoman has always taken ethics incredibly seriously, refusing any donations from lobbyists, corporations, or other special interests. We are confident that this matter will be dismissed.
The Food and Drug Administration announced Thursday that it had authorized emergency use of the updated Moderna and Pfizer-BioNTech COVID-19 boosters in children 6 months and older. Before the decision, the bivalent boosters protecting against two coronavirus strains were available to children age 5 and older. «More children now have the opportunity to update their protection against COVID-19 with a bivalent COVID-19 vaccine, and we encourage parents and caregivers of those eligible to consider doing so — especially as we head into the holidays and winter months where more time will be spent indoors,» FDA Commissioner Robert Califf said in a statement. Vaccination rates in children under 5 are lower than any other U.S. age group, with under 10 percent having received even a single dose.
The Federal Trade Commission on Thursday filed a lawsuit seeking to block software giant Microsoft's $69 billion deal to buy video game maker Activision Blizzard. The FTC said the acquisition would hurt consumers because it would let Microsoft use popular Activision games like «Call of Duty» to lure gamers away from rival companies, reducing competition. The lawsuit, approved in a 3-1 vote by the agency's commissioners, marks what could be a major setback for Microsoft, because its video game unit has piled up $16 billion in annual sales to become the company's most important consumer unit. The case marks a key test of FTC Chair Lina Khan's strategy to contain the power of Big Tech.
Trevor Noah Thursday. «This is it, my final show, and I've got a ton of cleanup to do so I can get the security deposit back on the studio,» Noah joked on his final, hour-long episode of the late-night topical comedy program he hosted for seven years. The farewell show was «a celebration of the fact that we fixed America,» Noah deadpanned. Noah, a South African comedian, was little-known to American audiences when he took over for Jon Stewart, but his outsider perspective gave the show a global sensibility fans loved.
New York Times employees held a one-day strike on Thursday, citing frustration after months of negotiations over compensation and other issues. More than 1,100 workers from the newsroom and other departments, including advertising and security, pledged to stop work in the walkout. Employees waved protest signs outside the newspaper's Midtown Manhattan offices, chanting, «We make the paper, we make the profits.» «This is not a decision we take lightly,» the employee union, the New York Times Guild, wrote in a message to Times readers. «We know you count on us all for vital news and information.» Meredith Kopit Levien, the chief executive of the Times, said the company was committed to negotiating a contract with «substantial pay increases, market-leading benefits, and flexible working conditions.»
Celine Dion announced this week that she has been that causes severe muscle spasms and stiffening in the limbs. The diagnosis came after the French-Canadian singer was forced to cancel shows over the past year due to difficulties walking and singing. «I've been dealing with problems with my health for a long time,» Dion told her 5.2 million Instagram followers in a video. «And it's been really difficult for me to face these challenges and to talk about everything that I've been going through.» Dion, 54, said her condition would prevent her from resuming her tour in Europe next February.