A US federal agency is considering a ban on gas stoves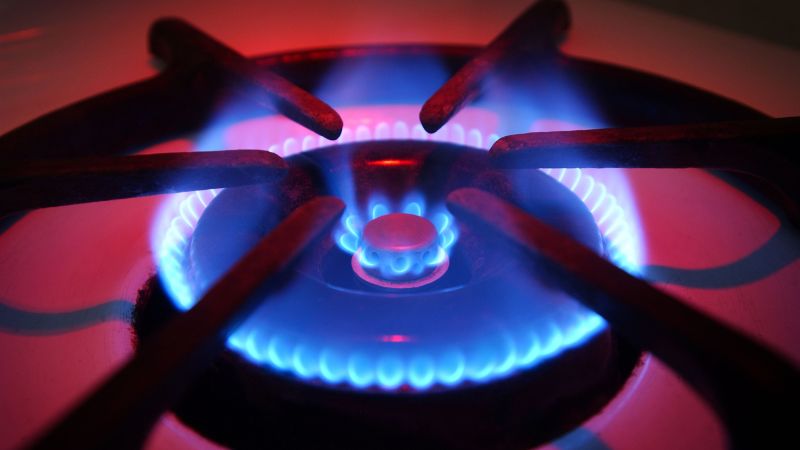 A federal agency is considering a ban on gas stoves, a source of indoor pollution linked to childhood asthma.
Richard Trumka Jr., a US Consumer Product Safety commissioner, set off a firestorm this week by saying in an interview with Bloomberg that gas stoves posed a "hidden hazard" and suggested the agency could ban them.
Trumka confirmed to CNN that "everything's on the table" when it comes to gas stoves, but stressed that any ban would apply only to new gas stoves, not existing ones.
The CPSC has been considering action on gas stoves for months. Trumka recommended in October that the CPSC seek public comment on the hazards associated with gas stoves. The pollutants have been linked to asthma and worsening respiratory conditions.
A photo shows the adjustment wheel of a gas boiler in a flat in Dortmund, western Germany, on October 4, 2022. Photo by Ina Fassbender/AFP via Getty Images.
Natural gas prices haven't been this low since Russia went to war
A December 2022 study in the International Journal of Environmental Research and Public Health found that indoor gas stove usage is associated with an increased risk of current asthma among children. The study found that almost 13% of current childhood asthma in the US is attributable to gas stove use.
Trumka told CNN the agency plans to open public comment on gas stove hazards, and noted the CPSC has not "coalesced" around a solution. It is still gathering information and preparing to ask for public input, he said.
Ad Feedback
But the White House on Wednesday asserted that President Joe Biden does not support a ban on gas stoves. And lawmakers in Washington recently argued that Black, Latino and low-income households are more likely to be affected by these adverse reactions, because they are either more likely to live near a waste incinerator or coal ash site or are in a home with poor ventilation.
Trumka pushed back on politicians' fears.
"We are not looking to go into anyone's homes and take away items that are already there. We don't do that," Trumka told CNN. "If and when we get to regulation on the topic, it's always forward looking. You know, it applies to new products. Consumers always have the choice of what to keep in their homes and we want to make sure they do that with full information."
The CSPC commissioner also pointed out that consumers who wish to switch from a gas stove to an electric one are eligible to a rebate of up to $840 through the Inflation Reduction Act — and up to $500 to help cover the costs of converting to electric from gas.
"We try to look at ways to make things safe. That is goal one. And if we can do that, that's fantastic. But every option, if we fall short of that, is on the table," Trumka said.
A pervasive problem
Thirty-five percent of households in the United States use a gas stove, and the number approaches 70% in some states like California and New Jersey. Other studies have found these stoves emit significant levels of nitrogen dioxide, carbon monoxide and fine particulate matter – which without proper ventilation can raise the levels of indoor concentration levels to unsafe levels as deemed by the EPA.
"Short-term exposure to NO2 is linked to worsening asthma in children, and long-term exposure has been determined to likely cause the development of asthma," a group of lawmakers said in a letter to chair Alexander Hoehn-Saric, adding it can also exacerbate cardiovascular illnesses.
Some cities across the US banned natural gas hookups in all new building construction to reduce greenhouse emissions – Berkeley in 2019, San Francisco in 2020, New York City in 2021. But as of last February, 20 states with GOP-controlled legislatures have passed so-called "preemption laws" that prohibit cities from banning natural gas.
STOCK gas stove
Gas stoves are a threat to health and have larger climate impact than previously known, study shows
"To me that's what's interesting about this new trend, it seems like states are trying to eliminate the possibility before cities try to catch onto this," Sarah Fox, an associate law professor at Northern Illinois University School of Law, told CNN last year. "The natural gas industry… has been very aggressive in getting this passed."
Impact on consumers
In a statement to CNN Business, the Association of Home Appliance Manufacturers said an improvement in ventilation is the solution to preventing indoor air pollution while cooking.
"A ban on gas cooking appliances would remove an affordable and preferred technology used in more than 40% of home across the country," Jill Notini, industry spokesperson, said in a statement. " A ban of gas cooking would fail to address the overall concern of indoor air quality while cooking, because all forms of cooking, regardless of heat source, generate air pollutants, especially at high temperatures."
The American Gas Association pushed back against a natural gas ban in a blog post in December, saying it makes housing more expensive as "electric homes require expensive retrofits."
Consumers who are concerned about gas stoves in their home can take precautions. Trumka urged those with gas stoves to ensure the exhaust hood is vented to outside the home, not being routed back into the home.
"We've been hearing that so many people's exhaust tubes don't adequately ventilate," he said.
If the exhaust is not vented outside the home, Trumka said gas stove users should open a window or turn on a fan to clear the air.
In a statement to CNN, the CPSC said the agency has not proposed any regulatory action on gas stoves at this time, and any regulatory action would "involve a lengthy process."
"Agency staff plans to start gathering data and perspectives from the public on potential hazards associated with gas stoves, and proposed solutions to those hazards later this year," the commission said in a statement. "Commission staff also continues to work with voluntary standards organizations to examine gas stove emissions and address potential hazards."
– CNN's Matt Egan and Ella Nilsen contributed to this report.