Ex-firefighter gets prison for Jan. 6 extinguisher attack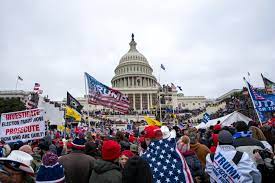 A retired firefighter who threw a fire extinguisher at police officers during the U.S. Capitol riot was sentenced on Tuesday to more than four years in prison.
Robert Sanford struck two police officers in the head with the fire extinguisher that he threw as he stormed the Capitol on Jan. 6, 2021, with a mob of Donald Trump supporters. He also threw an orange traffic cone at a Capitol police sergeant.
U.S. District Judge Paul Friedman sentenced Sanford to four years and four months in prison followed by three years of supervised release, according to an online court record. Federal prosecutors had recommended a prison sentence of five years and 11 months.
Sanford, 57, of Boothwyn, Pennsylvania, worked as a firefighter for 26 years before retiring in 2020. A fire extinguisher is "an instrument that he was uniquely familiar with and should have known how much damage it could cause," the prosecutor wrote.
Sanford traveled to Washington, D.C., with friends from Pennsylvania on bus trip organized by the conservative activist group Turning Point USA. He listened to speeches at Trump's "Stop the Steal" rally before joining the crowd that marched over to the Capitol and disrupted the joint session of Congress for certifying Democrat Joe Biden's electoral victory over Trump.
Sanford was arrested on Jan. 14, 2021. He has been jailed since he pleaded guilty last September to assaulting, resisting or impeding police officers using a dangerous weapon — a felony punishable by a maximum of 20 years in prison. He wasn't accused of entering the Capitol building on Jan. 6.