California Continues its All-In Mission to Recover from the 2023 February and March Storms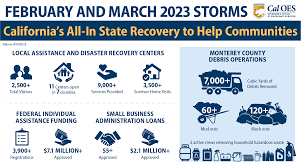 California Governor's Office of Emergency Services (Cal OES) continues its all-in mission alongside partner agencies to support recovery efforts of local communities to the 2023 February and March Storms.
In recognition of Wildfire Preparedness Week, Cal OES is touring the state with CAL FIRE to talk about the importance of being prepared. One way to get ready is make a plan with family and neighbors so you'll know what to do during an emergency. Learn more preparedness tips here.
If you need to leave your home quickly, it's important to know how to get ahold of family and where you'll meet if you need to evacuate. To learn more ways to be prepared for wildfire.
We're here in San Bernardino County with Sherri Sarro, Southern Region Assistant Director with @Cal_OES and now's the time to make sure you and your family are ready for the next wildfire. There are a few steps you can take to be prepared.
Continuing to work shoulder to shoulder with local, state, and federal partners to keep communities state in response to flooding in the Tulare Basin, Cal OES is working across state government to continue proactive preparedness and response efforts.
As the state's lead emergency management agency, the California Governor's Office of Emergency Services (Cal OES) remains committed to supporting our communities and leveraging both state and federal aid to assist those who have been negatively impacted by the ongoing floods.
Governor Newsom declared a State of Emergency in 47 counties impacted by the February and March storms and subsequent flooding.
Following the state's initial response, a Major Disaster declaration from President Joe R. Biden continues providing Californians with eligibility for federal relief programs and funding for disaster recovery centers and tactical recovery efforts.
Outlined below is a general overview of the approved aid and the subsequent steps that will be taken to support affected California communities.
MAJOR DISASTER DECLARATION
Governor Gavin Newsom requested a Presidential Major Disaster Declaration on March 28, 2023 in response to the February and March storms, which was approved by President Joe R. Biden on April 3, 2023. The disaster is declared as California Severe Winter Storms, Straight-line Winds, Flooding, Landslides, and Mudslides (DR-4699-CA).
The President has the authority to declare a Major Disaster Declaration for any natural event that is deemed to have caused damage beyond the capacity of state and local governments to manage. This declaration offers a broad range of federal assistance programs to support public infrastructure and individuals affected by the disaster.
CURRENT ASSISTANCE AVAILABLE FOR THIS FEDERAL MAJOR DISASTER DECLARATION
Please note that this Major Disaster Declaration is specific to the impacts of the February and March storms. To find information on the ongoing impacts of the January storms visit: 2023 Winter Storms Recovery.
Additional areas may be requested and added following further damage assessments for counties not presently covered by FEMA's Major Disaster Declaration.