11-year-old killed by reckless driver in Sunny Isles gives 5-year-old chance at life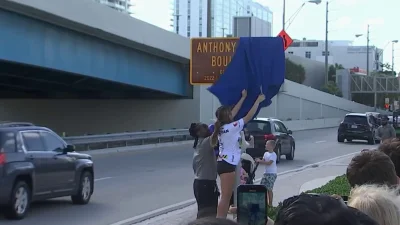 SUNNY ISLES, Fla. – The life of an 11-year-old boy was honored at a ceremony Saturday after he was killed nearly two years ago by a reckless driver in Sunny Isles.
As people drive into town, they'll see the newly named Anthony Reznik Boulevard on 136th street, a reminder to drivers that it's not worth driving recklessly.
His mother, Inna Trakhtenberg, told Local 10 News that she wants people know her son's story.
"I really want people to hear our story and to see how serious it can get," she said.
Almost two years to the day, Reznik was on a marked crosswalk on Sunny Isles Boulevard when Samentha Toussaint ran a red light and killed him.
Toussaint was never charged for her actions, despite a lengthy history of traffic citations.
Prosecutors said there was insufficient evidence to charge her under current Florida law.
"The driver that hit Anthony ran a red light that was red for 17 seconds," said a man at the ceremony.
Reznik's loss has created a major effort to improve pedestrian safety, even introducing legislation at the state level.
Trakhtenberg told Local 10 News that she feels "incredible" after seeing the progress that has been made after her son's death.
Losing her son has not only inspired pedestrian awareness but he has also saved lives.
Tequilla Struggles told Local 10 News that her 5-year-old son needed a heart transplant and received the heart that was once in the chest of Anthony.
"She lost a son and her son saved mine," said Struggles. "Waylen wouldn't have made it if he didn't get a new heart."
Before being taken off life support, Reznik would save three other lives.
Waylen was one of the people who benefitted from Reznik's life.
"Martha, she's a woman who received the liver and the kidney and they both were so sick. They didn't have too much time to actually wait for organs," said Trakhtenberg.