California Storm Brings Blizzard Conditions and Flash Flood Warnings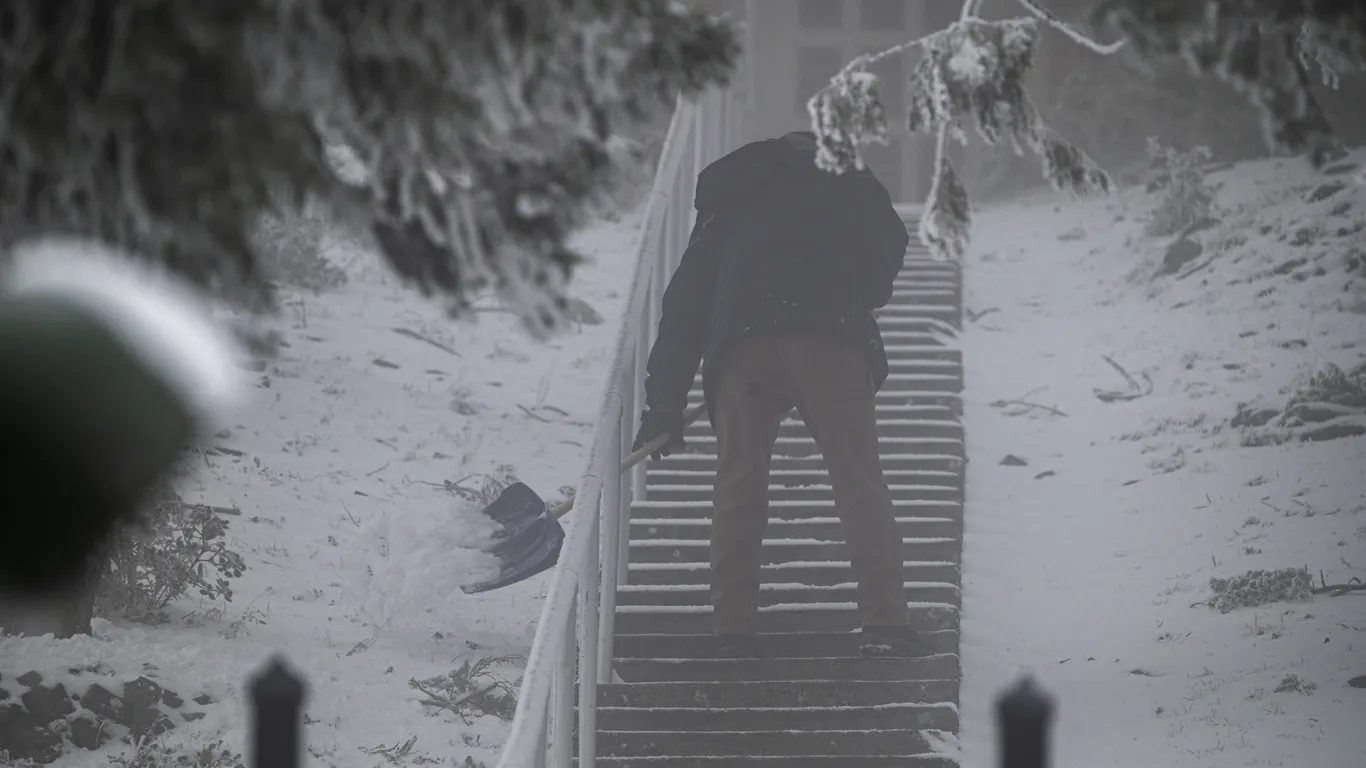 A rare, powerful winter storm is directing a firehose of moisture at large parts of California, causing blizzard conditions in the hills and mountains near Los Angeles, San Francisco, and San Diego.
The big picture: This storm prompted the first blizzard warnings in L.A. and Ventura Counties since 1989, and the first-ever blizzard warning issued by the Weather Service's San Diego office, for the San Bernardino mountains.
This storm, which consists of an unusually deep dip, or trough, in the jet stream across the West for this time of year, is bringing a vast array of hazards.
Pinwheeling within that trough is a potent pocket of atmospheric energy, which is directing moisture from southwest to northeast toward California and promoting the air to rise, cool, and condense to form towering clouds and in some cases, thunderstorms.
The storm had already knocked out power to more than 106,000 customers across the Golden State by Friday afternoon local time, with more outages expected amid wind gusts to hurricane force in terrain-favored areas, as well as heavy, wet snow weighing down trees, the NWS warned.
This storm is part of the overall winter storm systems that have traversed the country this week, knocking out power to about 1 million customers in several states.
Blizzard warnings
Threat level: Numerous roadways through higher terrain have been shut down due to snowfall, including the Tejon Pass on Interstate 5, with more road closures going into effect.
Snow fell overnight in hilly terrain surrounding San Francisco, with travel disruptions in Napa along with other communities. Higher elevation snow and low level rains continued Friday morning.
For the higher elevations of L.A. and Ventura Counties, a blizzard warning is in effect through Saturday afternoon local time due to the combination of heavy snow, winds gusting to 80 mph, and «near zero visibility,» the NWS forecast office in L.A. stated.
The altitude at which snow is falling is unusually low for this region, with up to a foot of snow possible between 2,000 and 4,500 feet, and up to 7 to 8 feet at higher elevations.
The snow levels may fluctuate during the storm as some milder air moves in from the Pacific Ocean, but where it stays snow, rates of 2 to 5 inches of accumulation per hour are expected, per the NWS.
As the storm began, a dusting of snow or ice was observed on the peak containing the famous Hollywood sign, the NWS stated via Twitter.
«Travel could be very difficult to impossible,» the NWS blizzard warning text states. «Some mountain roadways may be impassable for an extended period of time. Very strong winds could cause extensive tree damage.»