Video shows mother with baby in stroller being hit by pickup truck in Aventura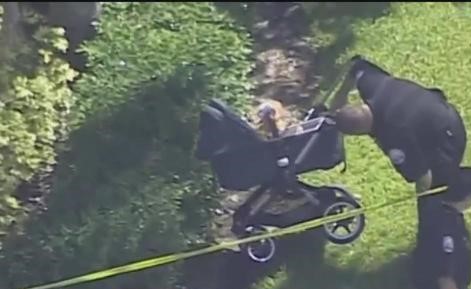 Authorities released video surveillance Tuesday of a mother pushing her baby in a stroller and then being struck by a pickup truck last week near Aventura's Williams Island.
Miami-Dade Fire Rescue personnel reported taking the baby to a pediatric trauma center and the woman to the north trauma center.
Aventura police said the mother and baby were able to survive the crash near the intersection of Northeast 183rd Street and 27th Avenue.
The child was ejected from the stroller in a northeastern direction (around) 24.5 feet (from impact). (They) landed in the center median, luckily on a patch of grass that cushioned his landing," an Aventura police report said in part.
"At approximately 27.0 feet from impact, (mom) was still rolling on her side eastbound (when) her midsection was run over by the front right tire," the report stated.
Aventura residents like Albert Gonzalez said that the city needs to increase the safety of the roads in the area.
"I'm not surprised– it's crazy," he said. "(It's) too congested and they need to do something else than just stop signs."
Police said upon arrival, they found the baby being held by a Good Samaritan and the mom underneath the pickup truck.