Snow From California's Storms Will Help Replenish Its Reservoirs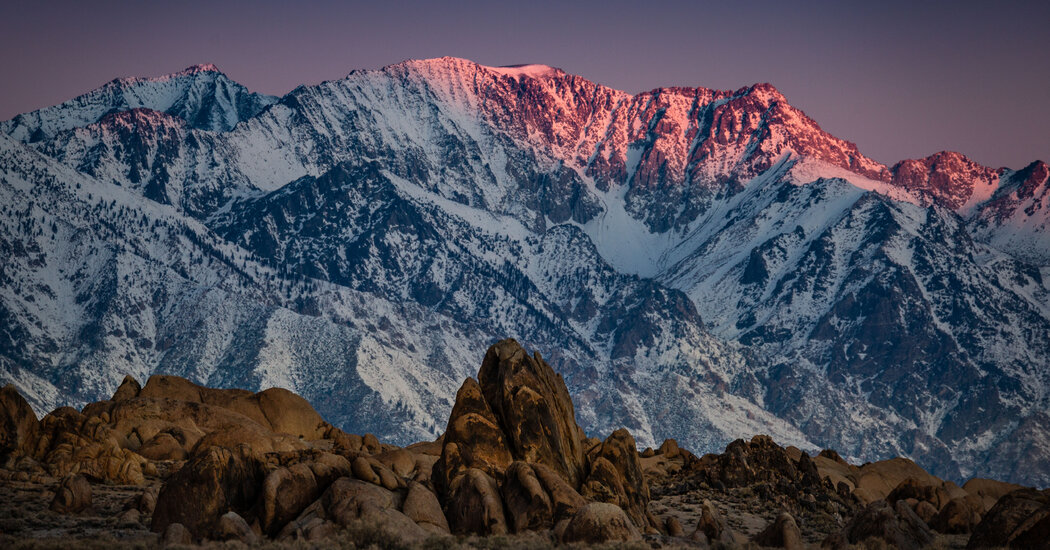 More winter snow in the Sierra Nevada will mean more water for California's reservoirs in the spring. "Water-wise, we'd rather have a big snowpack than a whole bunch of rain," a meteorologist said.
Send any friend a story
As a subscriber, you have 10 gift articles to give each month. Anyone can read what you share.
By Mike Ives
There is at least one silver lining to the punishing storms that have been sweeping across the Pacific Ocean and battering California recently: The snow they have dumped in the Sierra Nevada will do wonders for the state's beleaguered reservoirs.
As of Tuesday, California's mountain snowpack held more than twice the water content that would be there at this time in an average year, and was close to matching the April 1 average with more than two months still to go, according to the state's Department of Water Resources.
That matters because as the Sierra Nevada snowpack melts in the warmer months, it typically provides about 30 percent of the water supply for a state that has been reeling for years from punishing droughts and the major wildfires they help to fuel.
"With the snowpack the way it is right now — roughly around 200 percent for most areas of the Sierra Nevada — that's a great thing for California," Chris Hintz, a meteorologist at the National Weather Service office in Sacramento, said by phone early Wednesday.
The recent storm systems, known as atmospheric rivers, have been the "biggest engine" producing snow accumulation in the Sierra so far this winter, said JP Kalb, a forecaster at the Weather Service office in Hanford, Calif., about an hour's drive from the mountain range. "Higher snowfall in the mountains means more water is available, once melted, for cities like San Francisco," Mr. Kalb said.
The state's snow water content, which is surveyed in detail on April 1 each year, has generally been below average since the early 2010s, with a few caveats, Mr. Kalb said. But this year's snowfall in the Sierra Nevada has already been abundant. Weather Service data on Tuesday showed that some portions of eastern California — where the mountains are — had received several feet of snow just in the previous 48 hours.
Based on the snow forecasts for the next few days, Mr. Kalb said he expected the April snowpack totals to be higher than average in 2023, even if some snow melts between now and then.
There is evidence that previous atmospheric river storms have helped to break cycles of drought in the American West. A 2013 study of droughts from 1950 to 2010 found that 33 to to 40 percent of "persistent" ones in California had been broken by atmospheric rivers making landfall. The figure was even higher — 60 to 74 percent — for persistent droughts in the Pacific Northwest.
But wet weather in California early in the winter doesn't always mean that there will be abundant Sierra snowpack feeding the state's reservoirs later this year. Significant snowfall early last winter, for example, gave way to several very dry months, and by the time summer came around, water use restrictions were being imposed.
Another caveat: Atmospheric rivers don't always add to the snowpack; in fact, they may shrink it, if the storm's precipitation falls as rain at high elevations, rather than as snow. A 2018 study found that in the Cascades, which are typically warmer and wetter than the Sierras, winters with more atmospheric-river days were generally associated with reduced snowpack.
When a storm dumps rain on a mountain range, the water comes downhill too quickly. "It runs off into the reservoirs, and if the reservoirs can only hold so much, the rest of it gets lost, wasted, back out in the ocean," said Mr. Hintz of the Weather Service. "So, water-wise, we'd rather have a big snowpack than a whole bunch of rain."