Republican Florida lawmaker apologizes for calling trans people 'demons'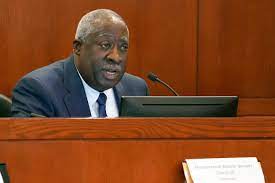 A Republican Florida lawmaker is apologizing after calling transgender people "demons" and "mutants" during a hearing on Monday night.
But some say State Rep. Webster Barnaby's apology comes too late, that the comments were uncalled for and that there are more pressing issues to worry about.
"The Lord rebuke you Satan and all of your demons and all of your imps, who come parade before us," Barnaby, from Deltona, said Monday. "That's right, I called you demons and imps who come and parade before us and pretend you are a part of this world.
Barnaby's tirade came during the Florida House Commerce Committee meeting after they heard from LGBTQ advocates and transgender people opposing the Safety in Private Spaces Act, a bill that would make it a misdemeanor offense for someone to use a bathroom that doesn't align with the sex they were assigned at birth.
"You are mutants from another planet," Barnaby continued Monday. "This is the planet Earth where God created men, male, and women, female. I'm a proud Christian conservative Republican, I'm not on the fence."
Other lawmakers from both sides of the aisle were taken aback by his comments.
"I'm also a Christian man and I want to say to the folks here who shared their testimony, I appreciated you coming up, you are not an evil being," said State Rep. Chase Tramont, a Republican from Port Orange, Florida.
"I'm still a little thrown off from the last comments here," added State Rep. Kristen Arrington, a Democrat from Kissimmee, Florida. "I just want to let you all know there are many here that understand and support you. There's no need for this bill."
Minutes later, Barnaby apologized.
"I referred to trans people as demons. I would like to apologize to the trans community for referring to you as demons," he said.
Orlando Gonzales, with LGBTQ advocacy organization SAVE, said the controversial comments were uncalled for, and that there are more pressing issues at hand.
"These are people that you would expect them to be better humans, to be much more compassionate with thinking about how they legislate and how they care for Floridians," said Gonzales. "That they spend time thinking about the safety of kids, like gun safety. Instead, they are obsessed with having conversations about bathrooms, about sports things that, really, they identify problems where there isn't one.