USS The Sullivans appears to be partially sinking at Buffalo and Erie County Naval and Military Park – WKBW 7 News Buffalo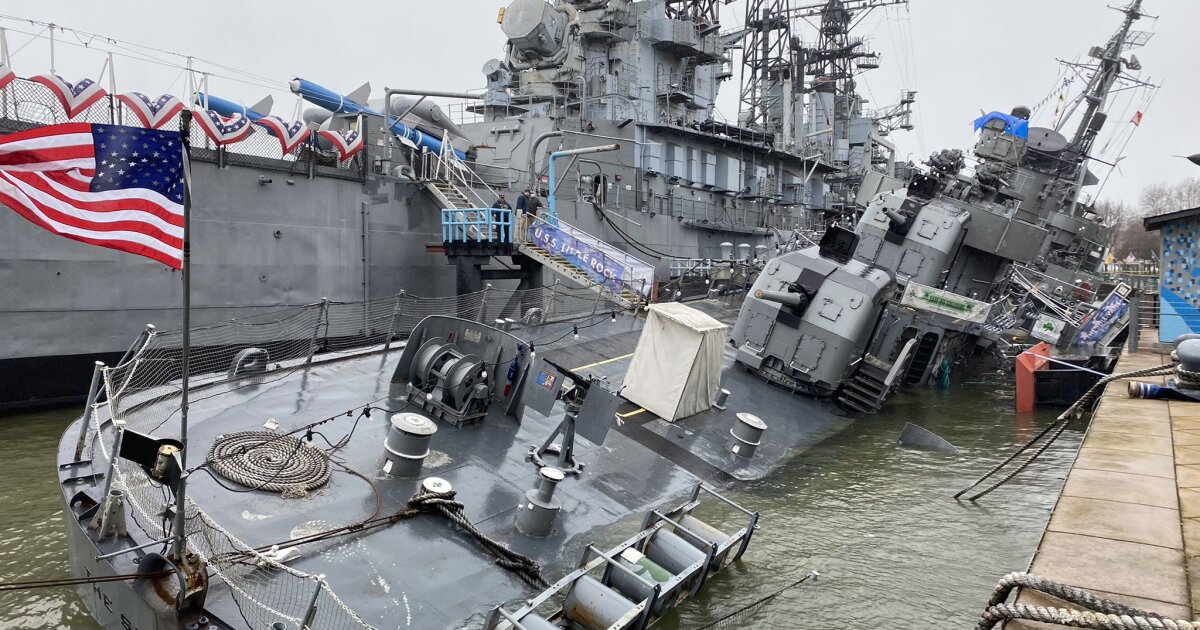 Menu
BUFFALO, N.Y. (WKBW) — USS The Sullivans, a decommissioned United States Navy Fletcher-class destroyer, appeared to be partially sinking at the Buffalo and Erie County Naval and Military Park on Buffalo's waterfront Thursday morning.
The USS The Sullivans was seen listing heavily to its starboard side, and sitting lower in the water than usual.
Naval park leadership reports a major breach in the hull has caused the ship to take on water.
Emergency repair crews from Bidco Marine Group, including an underwater diving team, are at the scene working to determine what caused the breach. Another crew is pumping water on the deck.
The naval park says the breach is aft of midship on the starboard side, causing the ship to tilt back and to the right.
Ship is stable now, but you can see how close it is to the water line @WKBW pic.twitter.com/AmChd50A18
BREAKING: Part of the back deck of USS The Sullivans now underwater pic.twitter.com/yrigQvj20G
City and county workers are also involved in assessing and mitigating the situation.
Our @ErieCountyESU is on site at the @BfloNavalPark assisting the Park with the listing of the USS Sullivans. A request has been made to the NYS Office of Emergency Management for special pumps. pic.twitter.com/hFAw5cOJfS
The USS The Sullivans was commissioned in 1943 and operated in the Pacific Theater during World War II. It is named after five brothers from Waterloo, Iowa. It is the only ship in the U.S. Navy to ever be named for more than one person. It was decommissioned in 1965 and has been in Buffalo since 1977.
In 2018, 7 News reported the USS The Sullivans was sinking due to a crack in her hull. In 2019, a fundraising campaign was launched to repair the ship.
Last year, 4-year-old Arrow Swartwout started collecting pennies to repair the ship.
Earlier this month, Congressman Brian Higgins announced $490,000 in federal funding would be added to support preservation and repairs.
Repairs to the ship were in progress, but were paused in October of last year. The naval park says water must be at least 54 degrees Fahrenheit for the epoxy used in repairs to adhere to the steel of the ship. Repairs were slated to resume on Monday.
No visitors will be allowed on any of the park's ships on Thursday.
It is unclear whether the incident Thursday morning has caused any additional damage to the ship.
Buffalo Strong